Multiplication Table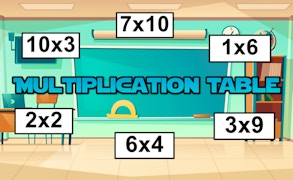 Multiplication Table
Description
Multiplication Table is an engaging educational game, designed specifically to make multiplication practice fun and interesting. In this game, players get to exercise their multiplication skills in a playful environment. The game challenges the player's number-crunching abilities and simultaneously, provides amusement, making it a delightful mix of education and entertainment.
How to Play
It is very straightforward to play Multiplication Table. Players are presented with unique multiplication problems and must provide the correct answer to score points. The more accurate answers given, the higher their score will be. This game not only improves your math skills, but also promotes mental agility and reaction speed.
Tips and Tricks
Players need to remember their multiplication tables well, as speed is often crucial in getting a high score. The quicker you can answer the problems correctly, the more points you earn. Don't let difficult multipliers slow you down; practice is key in mastering multiplication.
Features
Simplistic design: Easy-to-understand interface encourages learning.
Diverse Challenges: Multiplication questions across different levels keep players engaged.
Educational: Helps improve mathematical abilities while having fun.
Scoreboard: Keeps track of progress and motivates players towards self-improvement.
What are the best online games?
Tags