Multiplication Simulator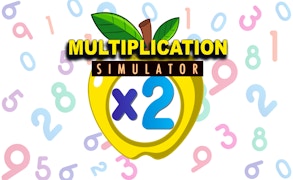 Multiplication Simulator
Description
The Multiplication Simulator is an engaging, educational game designed to help children master the multiplication tables in a fun, interactive way. Through playful visuals and interactive puzzles, kids can easily grasp the concepts of multiplication. The game increases in difficulty as kids progress, keeping the learning experience fresh and challenging.
How to play
The controls are simple and intuitive. Children just need to click or tap on the correct answers to the multiplication challenges. As they answer correctly, they progress through the levels, facing more complex multiplication problems. The goal is to complete each level with no mistakes and learn while having fun!
Tips and Tricks
A good strategy is to memorize basic multiplication facts ahead of time for smoother gameplay. Don't rush through questions - take your time, think carefully before choosing an answer. Remember, practice makes perfect: the more you play, the better you'll get at multiplication!
Features
User-friendly interface making navigation easy for children.
Interactive math problems designed to enhance learning.
Progressively challenging levels keeping students engaged.
Ideal tool for home or classroom learning.
What are the best online games?