Mud Truck Russian Offroad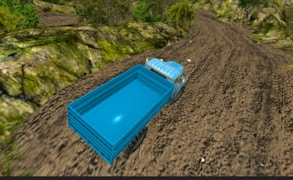 Mud Truck Russian Offroad
Welcome to the world of Mud Truck Russian Offroad, a standout entry in the world of truck games, driving games, and <>simulator games</>. This immersive, skill-based adventure will challenge your offroad driving abilities like never before as you navigate a treacherously detailed environment.
From the outset, Mud Truck Russian Offroad establishes itself as no ordinary truck game. Instead, it dares to tread upon the dirty trails and daring roads often ignored by standard driving games. Here, in the heart of Russia's majestic yet rugged landscapes, your off-road skills are put to the ultimate test.
The game's central challenge revolves around steering an extreme 4x4 Mud Truck. Just like a bull striving for dominance in a ring, this metal beast roars and rumbles with untamed power. Your task: taming this force of nature and ascending steep hills while overcoming cliff obstacles and unprecedented terrain. It's not just about the destination though; Mud Truck Russian Offroad is about savouring every twist and turn on your thrilling journey.
For those yearning for adrenaline-pumping excitement in their offroad games, this title does not disappoint. The sky-high tracks consist of narrow hill paths, flanked by towering dirty mountains. If you're looking for a walk in the park, steer clear; but if it's a heart-thumping thrill that you're after - buckle up!
Akin to many other successful skill games, Mud Truck Russian Offroad demands patience, precision and practice. However, with every successful manoeuvre and each impossible stunt perfectly executed over these dangerous curvy tracks, you'll feel unrivalled satisfaction.
In conclusion, Mud Truck Russian Offroad is much more than just another addition to the vast world of simulator games. It offers an intoxicating mix of risk-taking stunts and tactical driving - all set against an unforgiving yet captivating wilderness scenario. Truly, this title stands out from the crowd as a top-tier choice for any serious lover of off-road adventures.
What are the best online games?