Move to Gram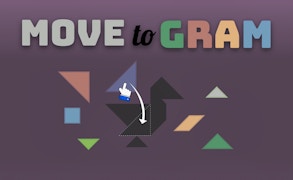 Move to Gram
Stepping into the immersive world of the 'Tangram Challenge' puzzle game is akin to embarking on an enlightening journey through an ancient realm of paradox and perspective. This enchanting block-game is inspired by the timeless art of tangram, transforming a traditional flat puzzle into a captivating 3D experience.
The game's true allure lies in its creative premise. Your mission is simple – yet testing - solve each level by rotating, dragging, and dropping the tangram pieces into the correct positions to form a secret shape. This compelling twist on block games blends elements of strategy with vigorous mental activity, making it an enjoyable exercise for those who relish brain-games.
The 'Tangram Challenge' offers an impressive array of 24 levels, with each level unlocking a new and progressively complex shape. This steadily increasing difficulty curve ensures that the game remains engaging for everyone - from casual players looking for a relaxing distraction to avid gamers seeking a truly challenging experience.
This meticulously crafted game requires players to think lucidly and visualize abstractly to arrange the tangram pieces perfectly. It inspires a unique blend of strategic thinking and imaginative insight, leading you down a path of mental stimulation and relaxation rarely experienced in other puzzle games.
To summarize, 'Move to Gram' in 'Tangram Challenge' is more than just another block game. It's an invigorating sprint into the realms of logical reasoning, spatial awareness and visual perception. Embark on this journey and challenge your mind with this riveting puzzle game!
What are the best online games?
Tags