Motorbike Racing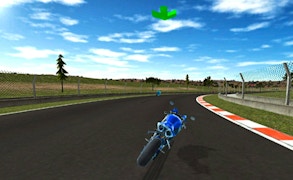 Motorbike Racing
Prepare to ride your way to victory with Motorbike Racing, the ultimate game that brings together the sheer thrill of motorcycle games and driving games, sprinkled with a dash of adrenaline-inducing drifting games.
The game offers an astonishing selection of six different motorbike models, each with their unique feel and performance. Whether you are a speed devil or someone who enjoys the smooth revving sound of a cruising bike, there's something for everyone. Be it for an off-road monster ride or the sleek city high-speed chases, Motorbike Racing has got you covered.
No two races are the same in this epic racing saga. With its captivating four game modes, the replay value is through the roof. Go for a quick spin in Time Trial, take on AI riders in Single Race, rise through the ranks in Championship mode, or unleash your competitive spirit against your friends in Multiplayer.
The tracks are a sight to behold too! From snow-capped mountains to sunny coastal beaches, Motorbike Racing presents four amazing tracks. Each track stands out with its unique characteristics challenging not only your racing prowess but also your strategic skills—a testament to Motorbike Racing standing tall among other Skill Games.
In conclusion, if you're looking for a top-tier motorcycle racing experience that keeps your heart pounding and fingers twitching, then Motorbike Racing is worth every megabyte of storage space. The multitude of bikes, breathtaking tracks and various gameplay modes make it an essential addition to any racing enthusiast's library.
Ride hard or stay home - with Motorbike Racing; it's always about living life on the fast lane!
What are the best online games?