Motor Rush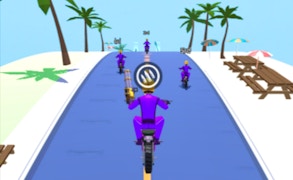 Motor Rush
Are you a fan of motorcycle games that take your adrenaline level to peak heights? If so, the thrilling Motor Rush is specially curated for you. This game is an electrifying mix of dirt bike games, driving games, battle games and gun games, in one comprehensive package.
In the world of Motor Rush, you're not just racing against time but also fending off unpredictable traffic attackers wielding weapons like axes or bats. Your mission is to be fast and furious on your motorcycle, but also quick with your punches and kicks to deviate your attacker's attention from the crazy race.
This game injects a distinct flavor of battle games into its core racing mechanics, offering a fresh take on traditional motor-racing formats. Preparing for an opponent's attack or retaliating with your own becomes as crucial as maneuvering through the challenging terrains found in typical dirt bike games.
The stakes are high in Motor Rush. Highway hurdles and obstacles spring up when least expected, leaving no room for mistakes. If focusing on the road was all you did in other driving games, prepare for a change. One wrong move here and it's game over.
The thrill of a motorcycle sprint blended with the strategy of a battle arena makes Motor Rush stand tall among other gun games. Shoot down opponents before they attack you or use tactical driving to keep obstacles at bay – every split-second decision counts.
To sum it up, Motor Rush is a non-stop roller coaster ride that will sway you away from other conventional motorcycle games. So why wait? Fasten your helmet and steer into the unmatched excitement that Motor Rush offers.
What are the best online games?