Motor Bike Hill Racing 2D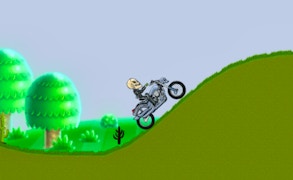 Motor Bike Hill Racing 2D
Are you a fan of motorcycle games and dirt bike games? Do you pride yourself in being a master of skill games? Well then, get ready to launch headfirst into the adrenaline-pumping world of Motor Bike Hill Racing 2D, a standout star among driving games.
The 2D plane of this impressive title does nothing to deter from its immersive gameplay. In fact, it adds a nostalgic charm that's undeniably appealing. Even more so when combined with the game's enchanting backdrops - stunningly rendered hills that are as treacherous as they are beautiful.
The true beauty of Motor Bike Hill Racing 2D, however, lies in its seamless blend of simplicity and complexity. It's a motorcycle game that demands precision, skill, and perfect timing to conquer its difficult terrain. The controls are intuitive, making it enticingly easy for beginners to start off, yet tough enough for veterans to master- a feature unique to the best dirt bike games.
But make no mistake; this is no lazy ride through idyllic scenery. The far-reaching landscapes are riddled with steep ascents and sharp descents. One wrong move and you're tumbling headfirst into the abyss - a telltale sign of an exhilarating skill game.
In conclusion, Motor Bike Hill Racing 2D isn't just another title in the surfeit of driving games available today; it's an exciting foray into the thrilling world of motorcycle races. This is not just one of those run-of-the-mill motocross or dirt bike games you've probably played before. It's a testament to simplicity meeting intense gaming - it's about time you revved up your gaming skills to match!
What are the best online games?