Motocross Hero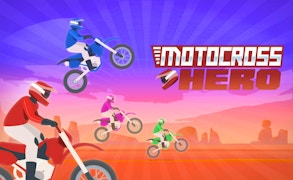 Motocross Hero
Dive headfirst into the adrenaline-fueled world of Motocross Hero, one of the best motorcycle games you'll come across. This thrilling MX motorsports game combines precision, skill, and heart-stopping action, compelling you to race your motocross bike across an unforgiving desert landscape.
Motocross Hero challenges you to navigate treacherous terrain marred by obstacles like large cracks and potholes. Your motocross bike isn't just for speed—it's a weapon too. Master the art of using your rear motorbike wheel to knock out your opponents in this riveting example of dirt bike games.
Fans of driving games will appreciate the realistic physics and controls that put you directly in the driver's seat. The roaring engine, the shifting sands beneath your tyres, the intense rivalries—Motocross Hero captures it all in exquisite detail.
This is no game for the faint-hearted. Just like real motocross racing, it demands precision, strategy, and reflexes that are as sharp as a cobra's fangs. One wrong move and it could mean a humiliating crash or worse.
Motocross Hero's graphics are a sight to behold—each particle of sand has been crafted with care, lending an air of authenticity that's hard to shake off. Its playability is just as impressive, offering hours upon hours of high-octane fun.
If you've got a need for speed and a thirst for competition, then strap on your helmet and start your engines—Motocross Hero is waiting. Part of an elite class of dirt bike games, it is surely going to take you on an unforgettable ride.
What are the best online games?