Moto Road Rash 3D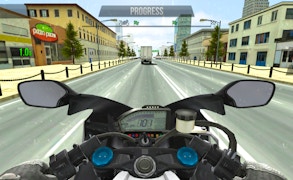 Moto Road Rash 3D
Experience the ultimate adrenaline rush with Moto Road Rash 3D, one of the most immersive and thrilling motorcycle games on the market. This marvellous piece of virtual entertainment plunges you headfirst into a high-speed world where grit, skill, and split-second decisions rule the roost. With its impressive graphics and responsive controls, Moto Road Rash 3D offers a genuine motor racing experience that has you gripping your seat from start to finish.
Driving games enthusiasts will find themselves spoilt for choice with a wide array of cool, sporty motorcycles housed in an expansive garage. The moment you rev up one of these beasts and feel the sheer power resonating from it, you'll be hooked. An important point to note is the intuitive handling mechanism – whether it's tilting your bike or overtaking opponents, every move feels fluid and natural, a rare quality among many dirt bike games.
The game shines not just in its mechanics but also in its presentation. The 3D graphics bring every bit of dirt, asphalt and dust particles to life as you race down winding roads at hair-raising speeds. The sound design is superlative too; each engine revving or tires screeching adds depth to your ride.
Moto Road Rash 3D is more than just a game: it's an exhilarating journey that caters to the daredevil in all of us. If you've been on the hunt for motorcycle games that keep your heart pounding and your fingers twitching, this high-octane wonder belongs on your radar.
Be warned though; once you slide into this virtual racer's seat, it's very likely you won't want to get up anytime soon. So strap on your helmet, fire up that engine, and prepare yourself for an unforgettable ride.
What are the best online games?