Moto Racer Game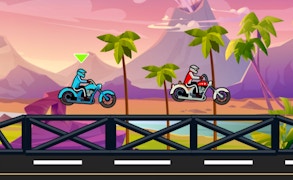 Moto Racer Game
There's no shortage of driving games on the market, but Moto Racer Game revs up some serious competition. Positioned comfortably between the sheer adrenaline of high-end motorcycle games and the grimy dust-filled universe of dirt bike games, Moto Racer emerges as a blend of precision, speed, and thrill.
Start your engine in a garage brimming with customization options. Each Moto Racer Game user gets to choose and upgrade their own two-wheeled monster from an impressive line-up. The game's design lets you feel the raw power purring beneath you, providing an immersive experience that few driving games can match.
The excitement escalates when you hit the road. The game's beautifully crafted levels are adorned with coins just waiting to be collected. Moto Racer Game is not merely about crossing the finish line; it's about doing it with style, speed, and strategy. Race against intelligent AI players who won't make it easy for you to reign supreme on these tracks.
Moto Racer Game also impresses with its dynamic gameplay; one that combines elements from epic motorcycle games and heart-pumping dirt bike games. Whether you're weaving through city streets or tearing up dirt tracks, the never-ending chase towards victory will keep your adrenaline pumping.
The allure of Moto Racer lies in its perfect blend of realistic physics, engaging gameplay mechanics, and immersive sound effects – all working in harmony to put it solidly on the map of must-play racing games.
In conclusion, Moto Racer offers an unparalleled experience for fans of driving games filled with relentless thrill chases or anyone seeking a pulse-pounding entry into dirt bike and motorcycle games. So what are you waiting for? Fire up your engines; it's time for some fun!
What are the best online games?