Moto Pizza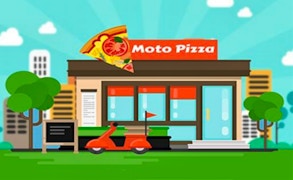 Moto Pizza
Welcome to the exhilarating world of Moto Pizza, a standout among motorcycle games that effortlessly fuses the thrill of dirt bike games with the strategic stipulations of driving games, parking games, and even throws in a slice of life from restaurant games.
The objective of this unique game is both engaging and compelling. As a player, you step into the sneakers of a swift pizza delivery boy, toiling for your pizzeria, juggling the dual responsibility of navigating your cargo bike through bustling streets and ensuring timely pizza delivery.
Leveraging the intriguing complexities of driving games, Moto Pizza challenges you to ride your bike deftly around obstacles and swerve through maddening traffic. You would feel your adrenaline spiking as you rush against time, struggling not to slip on dirt roads, reminiscent of the heart-pounding excitement found in top-tier dirt bike games.
In a fascinating twist, Moto Pizza doesn't just stop at racing. It delves into parking games, requiring players to strategically park their moto in highlighted areas. The challenge doesn't end after parking; you then navigate the delivery boy on foot straight to the customer's doorstep, bringing a taste (quite literally) of real-world complexity and humanity often found only in top-notch restaurant games.
Moto Pizza offers an addictive gaming experience that's more than your run-of-the-mill motorcycle or driving game. It adds layers of real-world challenges that keep you engrossed and constantly on the edge. If it's a unique amalgamation of motorcycle racing, strategic driving, precise parking, and efficient restaurant management that you seek, Moto Pizza will serve it hot and fast!
What are the best online games?