Moto Cruiser Highway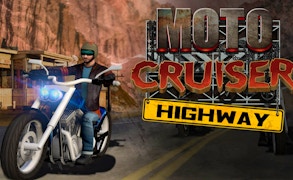 Moto Cruiser Highway
Unleash your inner speed demon with one of the most thrilling motorcycle games out there, Moto Cruiser Highway. Brought to you by the creative minds behind some of your favorite dirt bike games, this is where exhilaration meets virtual reality in a non-stop adrenaline rush.
Moto Cruiser Highway offers an immersive experience, allowing you to strap on your helmet, choose your avatar - male or female - and hop onto a speed machine tailored just for you. The array of bikes available isn't just limited to their aesthetic appeal. Each motorcycle boasts unique features and performance capabilities that cater to different styles of driving games, ensuring every race is as unique as the last.
Whiz through six spectacular tracks that manifest the heart and soul of the American Highway. Each location brings its own set of challenges and surprises, pushing your driving skills to their absolute limit. Whether you're navigating sharp bends or accelerating down endless straights, Moto Cruiser Highway captures the thrill and excitement that makes motorcycle games so addictive.
This game takes social play to a new height. You're not just racing against time; you're racing alongside a gang of motorcyclists, adding a competitive edge that keeps each race interesting, unpredictable and fiercely competitive.
In summary, Moto Cruiser Highway isn't just another addition to the plethora of motorcycle games on offer. It sets itself apart with its high-octane gameplay, stunning graphics, and expansive customization options that puts you firmly in the driver's seat of your gaming experience.
Fasten your seatbelts for a wild ride with Moto Cruiser Highway - it's revving up to give even the most seasoned dirt bike games a run for their money!
What are the best online games?