Moon City Stunt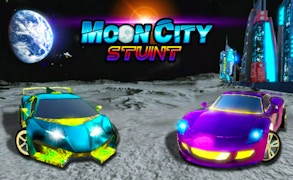 Moon City Stunt
Rev your engines and prepare for liftoff as Moon City Stunt, one of the most thrilling car games to hit the gaming scene, takes you on an exhilarating journey across the lunar landscape. This is not your average driving game. It transcends the common race track and places you right in the heart of a futuristic city on the Moon!
Racing against time, you'll have to unlock 5 diverse vehicles and make your way through 5 creatively designed stunt routes. Moon City Stunt dares you to push the boundaries of racing norms with its spine-tingling spirals and mind-bending teleport points.
This game isn't just about speeding – it's a brilliant incorporation of various skill games too. You'll be challenged to master space football and space bowling, adding an exciting twist to conventional drifting games. And let's not forget about "Free Driving" mode where you can test out your car's capabilities or simply cruise around for an enjoyable ride.
One element that sets Moon City Stunt leaps and bounds ahead in the realm of 2 player games is its innovative Gravity System. Players can modify gravity controls in their vehicles, creating a unique gaming experience that truly tests their driving skills on the moon surface.
Whether you're keen on car games, enjoy drifting games, or are looking for engaging 2 player games - Moon City Stunt caters to all your gaming desires. It's a captivating blend of racing, skill-building, and adventure that will keep you coming back for more. So buckle up and get ready to floor it in this interstellar adventure!
In conclusion,
Moon City Stunt
propels driving games into a new dimension with its unique features, stimulating gameplay mechanics and an extraordinary setting like no other. Don't miss out on this unforgettable lunar journey!
What are the best online games?