Monster Truck Way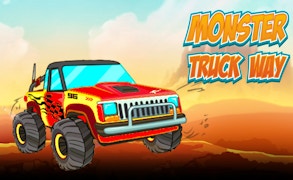 Monster Truck Way
Dive headfirst into the high-speed world of Monster Truck Madness, a thrilling addition to the realm of online driving games. Whether you're a seasoned gamer or new to the thrilling landscape of car games and truck games, this is one ride that promises to get your adrenaline pumping and your competitive spirit skyrocketing!
In Monster Truck Madness, your skills and quick thinking will be put to the test as you maneuver a colossal monster truck across challenging terrains. The enticing combination of speed, power, and control makes it an electrifying entry within the racing genre.
With its 8 action-packed levels and two distinctive locations, Monster Truck Madness stands out among other driving platform HTML5games. Its engaging gameplay coupled with eye-catching graphics offers an immersive experience as it blurs the lines between virtual and reality. This game doesn't merely satisfy your crave for speed; it adds a juicy layer of strategy with its gold coin collection feature. No more monotonous racing; this is a drive with purpose and rewards!
The coins are not mere collectibles; they are your ticket for advancing in this frantic race against time. Each level presents a new challenge – twisting terrains, daring jumps, and nail-biting obstacles – that will keep you on edge from start to finish line.
In conclusion, Monster Truck Madness is a vibrant beacon in the vast universe of car and truck games. It's fun, fast-paced, challenging, and comes loaded with enough explosive action to keep even the most demanding gamers hooked. Embark on this unforgettable journey today and witness madness at its best!
If you love speed, thrill, mad jumps & drifts, then Monster Truck Madness is undoubtedly for you. So strap yourself in tightly because this game promises one heck of a ride!
What are the best online games?