Monster Truck Puzzle 2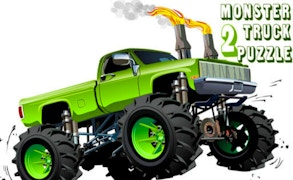 Monster Truck Puzzle 2
Get amidst the enthralling realm of unending excitement and thrill with the delightful Monster Truck Puzzle 2. Set in the captivating category of car games and truck games, this game is an unmatched blend of fun and brainstorming that guarantees amusement for all age groups, making it a perfect addition to your collection of family games.
If you are a fan of powerful monster trucks and can't resist a good puzzle, then prepare to be mesmerized. This game is not merely about maneuvering trucks, it's an innovative journey where you experiment with different-sized jigsaws. It's no ordinary puzzle; it's a brain-boosting monster machine challenge.
The unique feature of Monster Truck Puzzle 2 is its varied difficulty levels. You can choose from a range of four modes for each image including 16 pieces, 36 pieces, 64 pieces, and an intricate 100 piece puzzle. This range caters to everyone from beginners to hardcore puzzle enthusiasts, doubling the pleasure in this versatile contender amongst games for kids.
The interactive design filled with vibrant images is sure to ignite your imagination while keeping your grey cells active. The built-in leaderboards add the element of healthy competition as you attempt to beat your own best times or compete with friends.
In conclusion, Monster Truck Puzzle 2 masterfully marries the adrenaline-packed excitement of truck games with the intellectual engagement of puzzles. With its easy-to-learn mechanics and progressively harder levels, it challenges your problem-solving skills while offering kaleidoscopic entertainment. Give yourself a gaming treat that's also a brain teaser – try Monster Truck Puzzle 2 today!
What are the best online games?