Monster Truck: Forest Delivery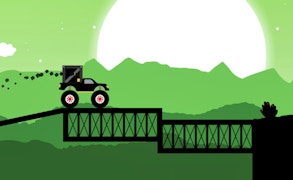 Monster Truck: Forest Delivery
Enter the wild terrain of gaming with the raw and thrilling Monster Truck: Forest Delivery. A must-play in the realm of car games and truck games, this gripping experience brings a whole new dimension to single-player driving games.
The game employs realistic physics that tests your driving skills to the maximum as you manoeuvre mammoth-sized monster trucks through dense forest trails. The jaw-dropping graphics and immersive sound effects make every ride feel real - reinforcing your connection to the virtual off-road environment.
Monster Truck: Forest Delivery is more than just a routine delivery mission. It forces you to tackle unprecedented challenges, employing strategy to safely transport goods without damaging them – transforming this game into an adventurous hybrid between truck games and puzzle-solving.
The beauty of this game is its versatility in adapting to various gaming moods. Whether you're yearning for some fun-filled action or craving a rigorous mental exercise – Monster Truck: Forest Delivery offers the perfect balance. The difficulty gradient appropriately increases, keeping you engrossed and challenged at all times.
No other car games match up to the adrenaline rush experienced when your laden monster truck teeters precariously over a cliff-edge! The painstakingly designed levels bring out every gamer's competitive spirit, pushing you to conquer every obstacle in sight and making it stand uncontested among other driving games.
To wrap up, Monster Truck: Forest Delivery is an engrossing blend of adventure, strategy, and action - making it an unmissable gem amongst car games, truck games, and driving games. Buckle up for an exhilarating ride through treacherous landscapes teeming with surprises around each bend!
Note: For the best gameplay experience, we recommend using a controller though mouse/keyboard options are available too.
What are the best online games?