Monster Truck 2020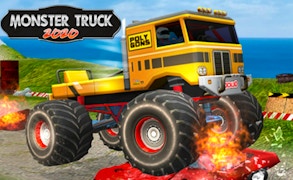 Monster Truck 2020
Taking the reins of the adrenaline-pumped realm of car games, truck games, and driving games is none other than the bone-rattling, ground-shaking phenomenon, Monster Truck 2020.
If you're a fervent fan of monstrous vehicles that make the earth tremble under their weight and roar through rugged terrains, Monster Truck 2020 is the thrill you've been waiting for. It's like having your very own hurricane on wheels, ready to sweep across the desolate desert settings in an avalanche of speed and power.
This off-road rollercoaster isn't just about speed though. In Monster Truck 2020, your mettle is tempered in the fiery furnaces of death-defying stunts and breakneck pace — a delightful surprise for lovers of monster truck games.
The game greets you with a brand new speedy off-road trucks race rally this winter. The parched desert landscape is set as your battleground where gravity-defying stunts are staged one after another. This isn't just a race against other motor-behemoths; it's a dance with danger itself!
The controls are intuitive - using either arrow keys or WASD to steer your metallic beast - allowing you to focus on strategizing your next big move. As a player, you'll find that each stunt performed is a masterstroke painted on the vast canvas of deserted dunes.
In conclusion, Monster Truck 2020 is not just another entry into the realm of car or truck games – it's an exhilarating ride that defies the conventional bounds of driving games and plunges head-on into mind-blowing excitement. It's more than just a game; it's an experience that will leave tyre treads on your gaming soul.
What are the best online games?