Mommy Washing Christmas Toys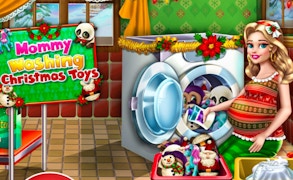 Mommy Washing Christmas Toys
Just in time for the festive season, I bring to you a delightful and entertaining game that perfectly falls under the Games for Girls and Christmas games categories. Aptly named Mommy Washing Christmas Toys, this heartwarming game will captivate the hearts of every child and release the inner child in every adult.
You might wonder why washing toys would be captivating, right? Well, this isn't just a game about ordinary laundry. It's a tale weaved around essence of Christmas - love, empathy and kindness. The premise of the game is as uncomplicated as it could be: Toys, the sacred presents of Christmas have gotten dirty somehow, and are crying out for your help to rescue them from this plight.
Become a true angel and spring into action! You have a noble mission to accomplish - sort, wash, dry, and then beautifully wrap these presents up to make them ready again. This simple act of kindness is sure to bring smiles not only on your virtual siblings faces but also on your Mommy's face! The warm feeling of accomplishment when she exclaims "You saved Christmas!" is something that words can't express adequately.
The real charm of Mommy Washing Christmas Toys lies in its simplicity. The graphics are beautiful with generous doses of reds, greens and whites sprinkled throughout the interface creating an enchanting festive atmosphere. Also worth mentioning is how this game promotes responsibility among kids and gives them joy in accomplishing tasks that we adults consider mundane.
In conclusion, Mommy Washing Christmas Toys is not just a game but also an emotionally enriching experience that leaves players feeling genuinely nice inside. So why wait? Embark on this beautiful journey towards making your virtual Mommy happy and join me in saying "We saved Christmas!". After all, aren't games meant to spread happiness?
What are the best online games?