Modern Slots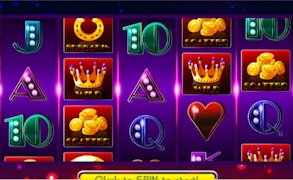 Modern Slots
If the allure of arcade gaming appeals to you, if the glitz and glamour of the casino floor intrigues you, then let me introduce you to an immersive adventure that transports you straight into the heart of Las Vegas - Modern Slots. This game brings together the thrilling world of slot games, casino games, and money games in one convenient, digitally-rendered package.
Modern Slots transcends the mundane by serving up not just one, but a whopping five different slot games. Each game has its own unique theme and captivating storyline that doesn't just challenge your luck but also engages your imagination. It's a multifaceted entertainment experience where winning isn't just about spinning the right combination, it's about immersing yourself in an exhilarating narrative.
This isn't your ordinary online slot game. With graphics so refined and detailed, Modern Slots has taken casino games to a whole new level. The reels spin with a fluidity that echoes real-life machines, making every wager feel tangible. The color palette is so rich and vibrant that it feels as though you're standing under the bright lights of a true-to-life casino.
But Modern Slots' charm doesn't stop at its visual appeal. Its backbone lies in its capacity as one of the dynamic money games. For those seeking more than just fun, there's real potential here to transform leisure time into profits. Let your fingers dance across your screen on this exciting online journey where every spin can potentially become an avenue for earning.
In summary, Modern Slots merges the thrill of physical casinos with the convenience of online gaming. It's a platform where fun meets finance and luck converges with strategy - proof that arcade gaming can be both entertaining and rewarding. Whether you're a casual gamer or serious about spinning fortunes, Modern Slots is undoubtedly worth your time.
What are the best online games?