Modern Bus Parking Advance Bus Games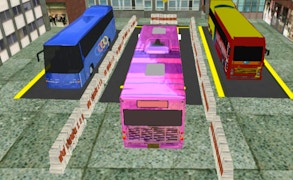 Modern Bus Parking Advance Bus Games
If you are a fan of car games, truck games, and driving games, we've got the perfect adrenaline rush for you. Say hello to "Modern Bus Parking Adventure - Advance Bus Games," a riveting ride straight from the dynamic gaming stables of Zamsolutions.
This is not just another title in the sea of generic simulator games. Instead, it is an intensive journey offering a unique blend of thrills and skills, specifically designed for those who seek the excitement and challenge of parking games.
The game puts you in the driver's seat, quite literally. A simulated world where skilled handling and precision parking of advance buses isn't just a job - but a career. Modern Bus Parking Adventure shines brightly among other car games with its exceptional graphics, eye-catching interface, and realistic controls.
Honed around the concept of 'long vehicle driving', this game adds a new layer to conventional driving games. Here's your opportunity to maneuver gigantic buses through crowded cityscapes or complex parking lots. Whether you're a rookie learning the ropes or an advanced player longing for some nail-biting challenges, this game has something for everyone.
The epic driving missions push you beyond your comfort zone and bring out the best driver in you. This game amalgamates aspects from various truck games, cranks up the difficulty, and creates missions that truly test your driving acumen.
In conclusion, Modern Bus Parking Adventure – Advance Bus Games takes the exciting world of simulator games, and injects it with intricate parking challenges to sculpt an addicting gameplay experience. It's time for enthusiasts of car games, truck games, parking games, and general thrill-seekers to put their virtual driving skills to test!
What are the best online games?