Mission Impossible: Save The Christmas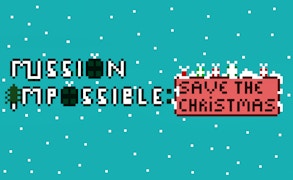 Mission Impossible: Save The Christmas
Description
In Mission Impossible: Save The Christmas, a festive arcade game, you are entrusted with the task of retrieving Santa Claus's lost presents. Utilizing Santa's extraordinary hat, you journey through pixelated sceneries to gather all the gifts. Be cautious of the red presents, as they can bring on unwanted challenges. The green presents, however, will boost your score significantly!
How to play
Simple and intuitive controls make this game fun and easy to play. Hold down the left mouse button to have the hat follow your cursor around the screen. Collect as many green presents as possible to increase your score, but make sure to dodge the dangerous red ones. The more green gifts you gather, the higher your score climbs!
Tips and Tricks
Moving with caution is key in this game! Although it may be tempting to rush through and collect as many presents as possible, remember that red presents can harm you. Balance between speed and careful maneuvering is crucial for achieving a high score. So pace yourself and plan your path accurately!
Features
Fun and festive theme: Step into Santa's boots and take up a vital yuletide mission.
Addictive gameplay: Simple controls and high-stakes present collection will keep you hooked for hours.
Pixelated graphics: Enjoy the classic 8-bit style visuals reminiscent of vintage arcade games.
Risky power-ups: Add an extra layer of strategy by avoiding harmful red presents while diligently collecting beneficial green ones.
What are the best online games?