Minigolf World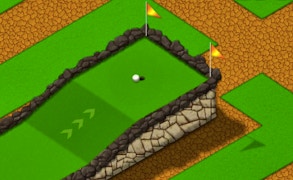 Minigolf World
If you're a fan of golf games and ball games, strap in for a relaxing yet stimulating journey with the HTML5 sport game, Minigolf World. With its addicting gameplay and serene ambiance provided by the chirping birds, this game takes mini golf to a whole new level.
The goal in Minigolf World is intriguingly simple yet challenging – shoot the ball into all 18 holes with the least hits possible. Yet, achieving this feat is easier said than done as the courses are littered with obstacles that require strategic planning and nimble execution rather than sheer power.
The game truly shines in its ability to be both soothing and challenging at the same time. As you navigate through each hole, you're serenaded by the tranquil sounds of chirping birds, setting a calming backdrop to what could otherwise be a frustrating affair. This unique blend of relaxation and challenge sets Minigolf World apart from other sports games.
Crafty players will appreciate the strategy involved in each shot. Every slope, every corner, every obstacle is an opportunity for smart play. Power isn't everything here – strategy rules this mini golf world. The satisfaction derived from plotting the perfect path for your ball and then watching it follow your plan is second to none.
In conclusion, whether you're an avid fan of golf games, a lover of strategic ball games or simply someone looking for an enjoyable way to pass time, Minigolf World delivers on all fronts. It beautifully combines relaxation and challenge into a single package that keeps gamers coming back for more.
SEO Keywords: Golf games, Ball games, Minigolf World
What are the best online games?
Tags