Minesweeper 3D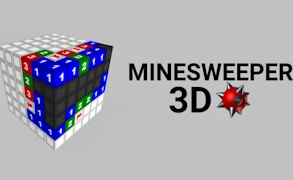 Minesweeper 3D
As a dedicated aficionado of puzzle games and a connoisseur of the realm of mining games, I was intrigued by the latest addition to the genre, Minesweeper 3D. This stunning 3D rendition of the classic game is precisely what it claims to be, an extraordinary blend of traditional minesweeper mechanics and modern-day graphics.
Minesweeper 3D is not your ordinary brain game. Demanding and delightfully challenging, it delivers a whole new level of complexity to the classic game. The goal is simple - clear a 3D board filled with hidden 'mines' or bombs. However, don't be fooled! Each mind-boggling level offers a fresh cerebral battlefield armed with cryptic clues about neighboring mines.
In this thrilling iteration, Minesweeper 3D blasts you into an immersive world where every decision could lead to spectacular success or explosive failure. The stakes are high in this daunting brain-twisting adventure. The intense pressure sends your neurons firing on all cylinders as your intellect battles against formidable odds.
The graphics are stunningly realistic, rendering each minefield in spectacular detail; moreover, the subtle sound effects enhance immersion while keeping your senses alert. Minesweeper 3D redefines expectations in both puzzle and mining games genres.
Minesweeper 3D promises tension-filled gameplay that relentlessly challenges your wits while providing satisfying victory moments for every completed board. This treasure trove of puzzles lures you into its depth with its beautifully rendered %d graphics and keeps you hooked with its sophisticated gameplay mechanics that deliver a refreshing twist on familiar territory.
In conclusion, Minesweeper 3D is an absolute pleasure for lovers of intricate puzzle-solving and fans of mining games alike. It's an essential cog in the machine that drives brain-testing gaming to new highs and revitalizes nostalgia with its revisit to a classic game in dazzling 3-dimensional glory.
What are the best online games?
TAGS