Mike And Mia Camping Day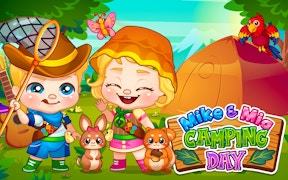 Mike And Mia Camping Day
Get ready for an enchanting adventure in the great outdoors with Mike and Mia Camping Day, a delightful interactive game designed specifically for young gamers. This engaging spectacle, perfectly suited for the games-for-girls and baby-games tags, blends fun, education, and creativity in a captivating package.
Taking on the role of a playful companion to our adventurous duo - Mike and Mia, kids will find themselves immersed in exciting camp challenges that are both entertaining and educational. The game thrives on player interaction, building on their natural curiosity as they're encouraged to catch bugs, discover adorable animals, and appreciate the beauty of various flowers. In these simple tasks, they will develop observational skills and learn about different species - enhancing their understanding of nature.
The game also fosters creativity with its dress-up feature. Ask your child to become Mike and Mia's personal stylist as they prepare for their camping excursion. Whether it's a trendy explorer look or a cozy pajamas style by the campfire, every choice helps to reinforce decision-making skills while stimulating their creative juices.
The cherry on top is laying out the perfect campsite! Instill organizational skills as your child sets up tents and plans their camping layout – an engaging task that presents practical problem-solving scenarios.
In conclusion, Mike and Mia Camping Day is not just a game but an experience that combines fun learning with creative expression - making it an ideal pick for your child's playtime! Get set to join Mike & Mia on this exciting outdoor adventure that promises fun-filled activities and plenty learning opportunities. So let your little one dive into this adventure today!
What are the best online games?