Mike And Mia Beach Day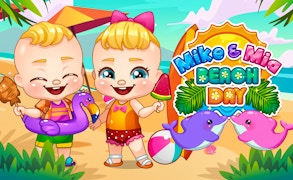 Mike And Mia Beach Day
Description
Prepare for a day of sunshine and laughter in the delightful game, Mike and Mia Beach Day. Players join the adorable duo, Mike and Mia, as they embark on a sunny seaside adventure. Engage in beach activities such as fishing, volleyball, or surfing. Express your fashion sense by choosing trendy beach outfits for our charming friends. Don't forget to prepare an awesome picnic for a perfect end to their day.
How to Play
This game offers simple controls that are easy to master. Use your mouse or touch screen to select and drag items, play games, or dress up Mike and Mia. Progress in the game is achieved by completing each activity successfully. The more you play, the more fun beach options you unlock.
Tips and Tricks
Perfect your volleyball skills by timing your hits correctly. While surfing, keep an eye on wave patterns as this will help you ride better. When fishing or setting up the picnic, keep experimenting with different choices to find what works best.
Features
Captivating graphics: The game boasts visually appealing graphics that will definitely engage children.
Multitude of Activities:The game offers a variety of beach-related activities keeping gameplay exciting and varied.
User-friendly controls:The controls are easy-to-use; perfect for little gamers learning hand-eye coordination.
Creative expression:The game encourages creativity through outfit selection and picnic setup.
What are the best online games?
Tags