Meya City Stunt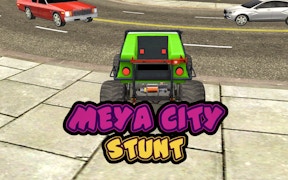 Meya City Stunt
Unleash your inner speed demon in Meya City Stunt, one of the most riveting car games in the online gaming scene. Breathtaking jumps, exclusive missions, and a bustling cityscape; this game quenches the thirst for adrenaline junkies and speedsters alike.
Meya City Stunt doesn't make your race against time, but instead, commands you to create chaos on a sprawling city map with 15 captivating levels. With each completed mission, you get the opportunity to earn money and discover hidden treasures in the form of elusive MeyaCoins scattered across the map. This isn't just about racing; it's about exploration and discovery infused with high-speed action.
The game transcends conventional driving games norms as it allows players to break free from guided missions. If you prefer an unscripted joyride or fancy your chances at drifting through labyrinthine city streets, Meya City Stunt's 'free mode' lets you do just that. It's a delightful blend of freedom and structured gameplay that makes it one of the most fun-filled fun games.
The allure doesn't end here. The MeyaCoins collected can be utilized to purchase faster sports cars within the game. With five different cars to choose from, each better and faster than the last, this feature adds an exciting layer of strategy to this racing extravaganza.
Fans of drifting games will find Meya City Stunt a perfect blend of speed, strategy, exploration, and chaos. Witnessing your car soaring over ramps against the canvas of a bustling city is an exhilarating experience that sets Meya City Stunt apart from its contemporaries.
Dive headfirst into this unforgettable stunt experience! Accelerate beyond limits in Meya City Stunt - where every pedal push brings an unmatched thrill!
What are the best online games?