Merge the Gems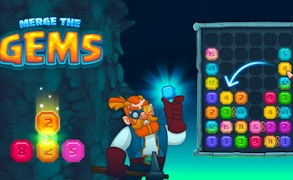 Merge the Gems
Do you thrive on the thrill of uniting identical numerical gems while testing your cognitive prowess? If so, brace yourself for a glittering adventure in Merge the Gems, an electrifying jewel game that promises to ignite your competitive spirit and challenge your mental agility.
The major appeal of Merge the Gems lies in its enthralling blend of number games with the glitz of sparkling jewels. Your mission is to merge gems of identical numbers, amplifying their numerical worth with each successful union. The ultimate challenge? To merge up to an impressive 30! With each fusion, you earn points, propelling you closer to a victory that shimmers as bright as diamonds.
Merge the Gems is more than just another one-dimensional brain game peddling predictable gameplay. Its unique twist is the captivating combo creation - each chain reaction of merges not only swells your score but injects an exhilarating thrill into this gem-merging adventure. But beware! Failure is only a gem's reach away from the ceiling.
Dying for some competition? Put your skill on a pedestal by aiming for the top spot on the Lagged leaderboards, pitting you against other players in this intense online merging game. And when failure does eventually strike - because it will - and you're forced to restart, just remember: every new game is another chance for triumph.
In sum, if you're seeking a puzzle game that tests not just your brain but also pushes your strategic abilities to their limits, then Merge the Gems offers an enticing challenge. Throw in its gorgeous graphics and immersive gameplay and you've got a jewel game that's worth its weight in diamonds.
What are the best online games?