Merge Balls 2048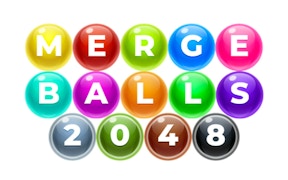 Merge Balls 2048
Dive into the world of Merge Balls 2048, an addicting and captivating blend of key gaming genres, serving us hot cups of 2048 games, ball games, match 3 games, and not forgetting the stimulating brain games. This unique arcade game brings to your gaming table a mesmerizing twist on arithmetic puzzles, infused with a dose of thrilling ball stacking challenges.
The core task in Merge Balls 2048 revolves around connecting balls of identical values in a strategic configuration – either straight line or diagonally, making it an appealing choice for fans of both 2048 and match 3 games. But beware gamers! This is no simple feat. With every successful connection you make, your reward is a new ball - however, this isn't your regular new entry. This is a ball with a number that's twice the value of its parents.
The number-crunching journey in this intriguingly crafted game is nothing short of exciting; it ensures that your need for mental stimulation isn't left at the door but rather, it's taken on a thrilling ride! The ultimate goal? Keep connecting and merging to maximize the numbers on these balls.
A playthrough on Merge Balls 2048 propels you into an engaging loop where each connection fires up your neurons and nudges you closer to that maximum score ever so meticulously. Whether you're in search of an exhilarating brain game or simply yearning for that nostalgic arcade feel, Merge Balls 2048 proves itself as more than just a game—it's an adventure in strategy, logic, and number magic!
If you're ready to flex your strategic muscles and prove yourself king or queen in the world of arithmetic ball stacking puzzles – then grab your gear (or rather download the game), get set, merge!
What are the best online games?