Mega Ramp Stunts GT Racing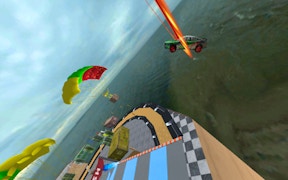 Mega Ramp Stunts GT Racing
Immerse yourself in the adrenaline-pumping world of high-speed racing with Mega Ramp Stunts GT Racing, the latest sensation in the realm of driving games and car games.
This isn't just another one in the pile of conventional racing games. Mega Ramp Stunts GT Racing takes you on a heart-pounding journey over vertiginous mega ramps and through bustling cityscapes. A perfect blend of exhilarating speed, precision driving, and reckless abandon, this game transports you to an extreme city GT racing environment that defies the laws of gravity.
Fusing elements from thrilling drifting games, strategic simulator games, and hardcore offroad games, Mega Ramp Stunts GT Racing pushes the boundaries of what's possible on four wheels. It dares you to take on gripping car driving challenges that test your mettle at every turn. This game is not just about speed; it's about defying the odds, conquering impossible tracks, nailing audacious stunts, and pushing your car–and your nerve–to their absolute limits.
The game stands out from other adventure and sports games with its unique stunt driving dynamics. Fresh to the car stunt gaming scene in 2020, it offers a distinctive experience that's both stimulating and delightfully challenging. As you accelerate over vast expanses, whirl around tight corners, and blast off into gravity-defying jumps from mega ramp to mega ramp–you'll know this isn't your ordinary racing game.
If you consider yourself a sim racer or if you're hungry for an innovative twist on traditional racing games, then Mega Ramp Stunts GT Racing is a must-try. From its vivid graphics to its dynamic challenge system–there is no denying that this game packs quite a punch for a small screen experience. So buckle up for an epic ride in one of the most exciting car games of 2020!
What are the best online games?