Mega City Stunts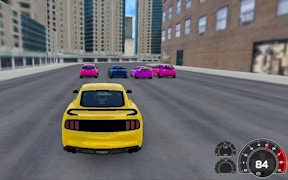 Mega City Stunts
Are you a thrill-seeker with unquenchable adrenaline waiting to experience an intense world of racing and stunts? I present to you, Mega City Stunts; a splendid blend of exhilarating car games, pulse-pounding drifting games, and heart-racing driving games. Fasten your seatbelts because this game is about to take you on an unforgettable ride.
Situated within an expansive Mega City, the game concocts a realm of high-speed adventure that will leave your palms sweaty and heart thumping. Packed with impressive stunts, the game raises the bar for all modern-day Skill Games. The beauty of this game does not stop at its stunts; it also includes nail-biting races that can be played solo or as a duo in 2 player games.
The immersive world of Mega City Stunts isn't designed just for you to admire, but to conquer. You're not just racing against time, but against proficient CPU racers. These artificially intelligent competitors are smart, fast, and relentless. But remember, victory tastes sweeter after a hard-fought battle.
Whether it's performing a perfect drift around the corner or beating opponents at lightning speed, every race is a chance to shine. The catch? You'll have to hurdle past your rivals and finish first if you want to unlock riches. In Mega City Stunts, glory waits for no one.
The seamless blend of skill-demanding stunts and adrenaline-pumping races make Mega City Stunts more than just an average game; it's an experience unlike any other. So brace yourself, ignite the engines, and prepare for an epic adventure in one of the most enthralling car games out there: Mega City Stunts.
What are the best online games?