Maze Monster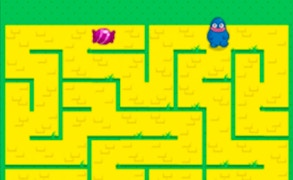 Maze Monster
Step into the mesmerizing labyrinth of the exhilarating puzzle game, Maze Monster. This spell-binding fusion of monster games and intellectual brain games will ensnare your attention and keep you challenged for endless hours.
The premise is simple, yet captivating; solve the intricate mazes as swiftly as you can while guzzling all the candy scattered strewed across your path. Yet, beneath this seemingly straightforward task lies a world of strategic thinking and quick decision making. All while you're immersed in a phenomenal world populated by captivating monsters.
The game's monsters are not only your companions but also your competitors in this brain-challenging race against time. Just like in the most engaging monster games, they add a thrilling dimension to the gameplay that elevates it from being just another puzzle game.
In tradition with the best brain games, Maze Monster tests your mental strength with its increasingly convoluted labyrinths that demand not just speed but also ingenious planning. The vivacious candy-crunching monsters are there to pull you back from strategizing too long, adding an element of urgency to every move you make.
Every step you take within these treacherous mazes, every candy you consume, and every monster you encounter may well be a step closer to victory or an unforeseen hurdle on your path to success.
Maze Monster brilliantly intertwines elements of monster games and brain games into a uniquely engaging package that will leave ardent puzzle gamers besotted. Whether it's swift problem-solving or outsmarting adorable candy-loving monsters at their own chase, this game offers an enthralling experience that's hard to put down.
Dive into the beguiling world of Maze Monster now for a remarkable rendezvous with intricate puzzles and charming monsters!
What are the best online games?
Tags