Matryoshka Rush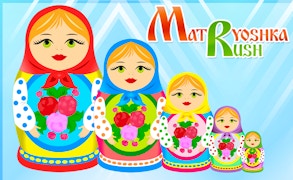 Matryoshka Rush
Description
In Matryoshka Rush, players can explore the fascinating world of Russian matryoshka dolls. The game presents an interesting challenge to create a set of these iconic Russian dolls, each smaller than the last. However, there's a tricky catch - you have to make sure that your newly created doll isn't going beyond a red border. The game is an engaging combination of timing and estimation with an added cultural twist.
How to play
Playing Matryoshka Rush is straightforward yet captivating. A single touch sets the size of your next matryoshka doll. Make it as large as possible without exceeding the red border around your current doll. The more dolls you successfully create, the higher your score! Strive for new personal records with skillful timing and precision.
Tips and Tricks
Patience and judgment are key in Matryoshka Rush. Aim to maximize the size of each new doll while staying within the boundaries. Try not to rush - a smaller successful doll gives more points than a larger failed one! Utilize bonuses wisely after achieving records for additional benefits in future games.
Features
Precision-based gameplay: Tests your estimation skills in a fun way.
Cultural theme: Explore the beauty of Russian tradition with Matryoshka dolls.
Bonuses: Score high and get rewarded with extra matreshka dolls in subsequent games.
Friendly competition: Aim to break world records and set impressive personal highs!
What are the best online games?
Tags