Maths Challenge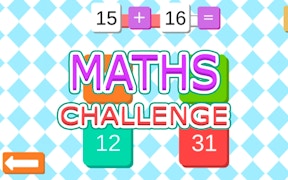 Maths Challenge
If you're a fan of math games or number games and puzzles, then the game Maths Challenge is a real treat that's worth your time. Designed to test your mental agility, it provides a unique blend of fun and learning that's perfect for kids and even adults who want to put their math skills to the test.
The most compelling attribute of Maths Challenge is its seamless integration of entertainment with education. It takes the daunting aura off mathematics and transforms it into an engaging series of puzzles, treading the fine line between brain games and educational games.
The gameplay involves solving problems under time pressure, ensuring an adrenaline-filled experience while helping you polish your number-crunching skills. The higher your score, the better you understand complex mathematical concepts - turning it into one of those games for kids that parents are only too happy to promote.
In essence, this game is one of the best ways to introduce children to mathematics or help them improve their grasp on it, making it a top choice among learning games. With its stimulating challenges, Maths Challenge ensures that your brain cells are firing at all cylinders while also guaranteeing hours of fun-filled entertainment.
All in all, Maths Challenge strikes an impressive balance between fun and education. It redefines the traditional notion of educational games, proving that learning can be as exciting as any action-packed video game. It doesn't just teach kids how to solve mathematical problems - it cultivates a love for figures and logic that extends beyond gameplay. If you're looking for a number game that offers both brain-racking challenges and boosts cognitive development, Maths Challenge is definitely worth checking out!
What are the best online games?