MathPup Truck Counting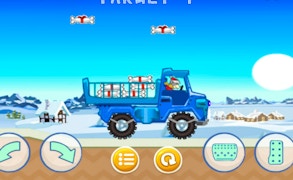 MathPup Truck Counting
Unleash your inner speed demon and mathematician with the thrilling MathPup Truck Counting game. This captivating blend of truck games and math games will undoubtedly supercharge your driving and counting abilities.
MathPup Truck Counting is a marvel in the world of car games, merging the exciting dynamics of driving games with the cognitive challenges of number games. The gameplay is simple: Load your truck with a specific amount of items, cruise across rocky terrains, and deliver your cargo safely.
The pleasure comes not just from sheer driving but also from mastering mathematics. It's a unique spin that sets MathPup apart from typical truck games. This game offers a fantastic way to practice your counting skills in an untimed environment, leaving you ample room to focus on precision rather than speed.
The clever addition of hills throughout the course gives MathPup an extra spice. You're required to drive fast enough to scale these miniature mountains but slow enough to prevent your cargo from bouncing out. This delicate balance between speed and control makes this one of the more exhilarating car games.
The magic of MathPup Truck Counting lies in its transformative power – it turns everyday number crunching into an adventurous truck ride. Effortlessly blending elements from both math games and driving games, it creates a unique educational experience that's entertaining and challenging in equal measure.
In conclusion, if you're after a game that meshes the thrill of acceleration with brain-tickling mathematics, MathPup Truck Counting ticks all the boxes. It's much more than just another game; it's a digit-crunching, gear-shifting odyssey that takes
truck games
to an entirely new level. Enjoy the ride and ace the numbers!
What are the best online games?