Math Playground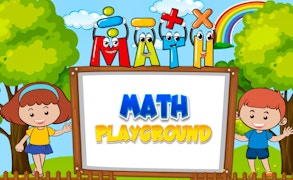 Math Playground
Description
Enrich your child's learning journey with Math Playground, an online game designed to introduce math concepts in a playful manner. The game blends learning and entertainment, offering various challenges that engage kids in practicing arithmetic like addition, subtraction, multiplication, division, and even geometry. A fun-filled way to develop crucial math skills for free!
How to play
The game offers a user-friendly interface perfect for kids. Players only need to click or tap on the screen to choose the correct answer from multiple options. Progression in the game is measured by the number of correct answers, which also increases the difficulty level, introducing more complicated math problems over time.
Tips and Tricks
To excel in Math Playground, encourage your child to take their time solving each problem. Remind them that thoroughness trumps speed in mathematics. Using scratch paper to solve complicated problems can also be beneficial.
Features
Different levels of difficulty accommodating different age groups.
A vibrant and interactive interface that stimulates learning.
Multiplicity of mathematical concepts incorporated within games.
A progress tracking mechanism rewarding correct answers.
Caters to individual learning paces without any rush.
What are the best online games?
Tags