Math Plasticine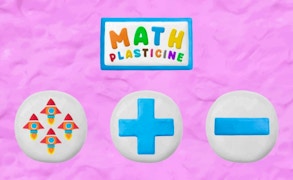 Math Plasticine
Dive into the world of fun and learning with MATH PLASTICINE, an engaging game for kids that doesn't just entertain but also educates. Developed by the innovative team at nau.kids, this riveting math game turns numbers into a delightful playtime experience.
First and foremost, MATH PLASTICINE stands out in the ocean of educational games. It seamlessly merges the concepts of math with the limitless joy of gaming. Children won't even realize they're learning as they plunge into the vividly colored world of numbers and operations.
The game effectively handles the crucial task of teaching quantities, addition, and subtraction by wrapping them up in a package so colourful and interactive that kids are irresistibly drawn in. Through fascinating visuals and interactive features, this unique number game breaks down complex mathematical concepts into manageable pieces that easily fit into a child's understanding.
MATH PLASTICINE isn't merely another game in the vast ocean of digital entertainment; it's a powerful learning tool cleverly disguised as play. As much as it is an enjoyable diversion, it's an effective educator which leads to it becoming one of the top choice for parents when selecting learning games for their little ones.
In conclusion, no stones are left unturned by nau.kids to ensure that MATH PLASTICINE offers comprehensive mathematical education while making sure children have a blast exploring this vibrant world. If you're on the hunt for a game that genuinely combines enjoyment with education, look no further than this stunning masterpiece in kids' puzzle games.
What are the best online games?