Math Bug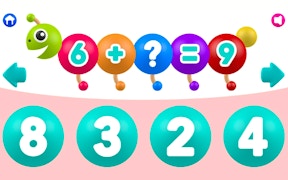 Math Bug
Welcome to the enchanting world of Math Bug, a vibrant paradise developed by Nau.kids that effortlessly combines games for kids with engaging educational games. This is where learning marries fun, and mathematics emerges as the queen of this vibrant realm.
Whether you want your little ones to sharpen their math skills or simply desire to bring an entertaining spin to their mundane numerical drills, Math Bug elegantly fits the bill. Designed for kids but packed with puzzles that will interest even adults, this game serves as a resounding testament that learning games can be addictive and rewarding.
The game transcends the boundaries of a typical classroom setup and transforms your phone, tablet or computer into a dynamic learning environment. This remarkable blend of technology and education ensures that Math Bug is much more than just another math game; it is a fascinating journey into the realm of numbers.
The gauntlet thrown by Math Bug includes a diverse range of number games which have been crafted with meticulous precision. From arithmetic operations to intricate calculations, every round in this game compels players to think, analyze and strategize before making their next move.
All in all, Math Bug isn't just about winning or losing. Rather it's about taking up challenges, solving problems, and growing stronger with each calculation. This unique perspective makes it stand head and shoulders above traditional educational games.
In conclusion, Math Bug is an excellent fusion of fun gameplay and effective learning integrated into one compelling package. It's nothing short of a digital playground where knowledge meets excitement. Make sure you give it a try; because when you dive into the world of Math Bug, math will no longer be just numbers but a thrilling quest to find solutions!
What are the best online games?