Math Battle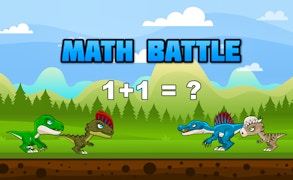 Math Battle
Description
Welcome to Math Battle, an exciting game that perfectly combines education and fun. In this game, players will sharpen their math skills while taking part in thrilling dinosaur battles. The player needs to solve math problems to stay ahead in the dinosaur clash. Only the right answers will lead your dinosaur to victory.
How to play
To progress in Math Battle, use their keyboard or touch controls to input answers. Each correct answer strengthens your dinosaur and increases your score. However, incorrect answers weaken your dinosaur, so make sure you've got it right! The aim of the game is to solve as many problems as possible and keep your dinosaur fighting fit!
Tips and Tricks
Take your time and make sure each answer is accurate because mistakes can cost you a lot in Math Battle. Brush up on basic math facts before playing for real. Remember that there is no time limit per question, so think carefully before making your move.
Features
A fun way to improve math skills.
Action-packed dinosaur battles for the kid in everyone.
Simple controls that are easy for anyone to understand.
A challenging experience with a gradual increase in difficulty.
What are the best online games?