Matching Card Heroes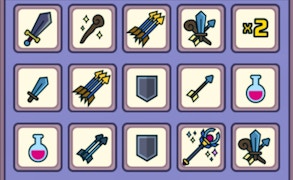 Matching Card Heroes
Welcome to the enthralling universe of Matching Card Heroes, an innovative blend of Skill Games, Battle Games, and Memory Games that will test your memory skills to their limits, whilst serving a hearty dose of battle-strategy excitement. Whether you're a casual gamer looking for a quick thrill or a veteran on the prowl for a new challenge, Matching Card Heroes is a must-play journey.
Matching Card Heroes takes the classic memory game concept and elevates it with captivating battle sequences. You control every move in your journey by finding identical pairs amongst a set of face-down cards. The beauty underlying this gameplay is how it masterfully blends memory-based mechanics with strategic battles, creating an addictive game rhythm that keeps you coming back for more.
The challenge in Matching Card Heroes lies not only in memorizing card positions but also in battling various enemies with different abilities and strengths. You must swiftly find pairs that boost your own power while working towards defeating your foes. It's a remarkable merge of battle games and memory games, turning the typical card game on its head.
From an aesthetic standpoint, Matching Card Heroes doesn't disappoint either. The visuals are striking; you'll find yourself captivated by the colourful card designs, vivid landscapes, and imaginative character portraits. Furthermore, the sound effects and music are well synchronized to provide an immersive gaming experience.
In conclusion, Matching Card Heroes offers intense memory-testing gameplay wrapped up in battle-strategy excitement that is sure to get your heart racing. This multi-faceted card game is primed to be your next big gaming obsession!
What are the best online games?