Match The Boxes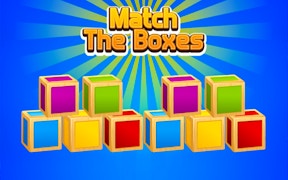 Match The Boxes
If you're a self-proclaimed puzzle enthusiast, then the newest addition to the realm of match 3 games, Match The Boxes, is likely to tickle your fancy. This brain-teasing spectacle offers a joyful merger of brain games and block games, taking puzzling excitement to new heights.
Visually, Match The Boxes doesn't disappoint. The aesthetic is both charming and engaging, with vibrant colors that add to the appeal of the gaming experience. Box designs have been crafted thoughtfully, each one distinctly unique, making the task of matching them an intriguing endeavor.
The gameplay mechanics are refreshingly simple: all you need to do is match similar boxes before they pile up. But don't let this simplicity fool you – the game progressively challenges your puzzle-solving mettle as you ascend through its increasingly complex levels.
In Match The Boxes, each match you make rewards you with points. The higher your score, the better your rank – this adds a competitive edge that keeps you hooked for more. The real crux lies in strategically creating combinations for special effects and big scores. This makes Match The Boxes not just a game of random matches; it's a cerebral expedition demanding both intelligence and creativity.
This game ably stands out in the vast sea of match 3 games. It not only tests mental grit but also hones cognitive skills – making it a perfect entrant in our collection of enticing brain games. Plus, if you're into block games, Match The Boxes provides a refreshing take on this beloved genre.
In conclusion, Match The Boxes is an irresistible package for puzzle aficionados. It's more than just a game; it's an enjoyable brain workout that keeps you engaged while pushing your limits. So, what are you waiting for? Permit yourself some joyous puzzling hours with Match The Boxes!
What are the best online games?