Match The Animal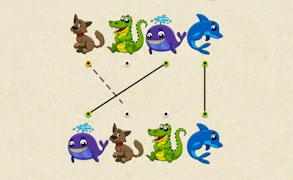 Match The Animal
Immerse into the world of adorable creatures with one of the best games for kids, Match The Animal! This enchanting animal game not only offers a dose of cuteness overload but is also packed with fun-filled educational elements. Bursting with vibrant colours and appealing graphics, Match The Animal is an excellent platform for kids aged 3 to 8, to learn while they play.
Imagine a virtual 'Noah's Ark', brimming with pairs of exotic creatures waiting to be matched. This is precisely what makes Match The Animal a standout in the realm of animal games. It's not just about having fun meeting new animal friends, it's about training your child's mind in a creative and lively way.', making it a perfect blend for educational games.
The game comprises three different levels that scale up in difficulty, serving as an ideal tool to develop and expand children's cognitive abilities. From recognizing shapes and colours to remembering patterns to match pairs, children are engaged interactively while strengthening their memory skills. Additionally, the enticing sounds that echo with every victory create an encouraging environment that motivates the little ones to keep going.
No matter if you are looking for an entertaining pastime or intending to introduce productive screen time for your kids, Match The Animal checks all the boxes. As an exciting learning adventure filled with delightful surprises, it promises hours of enjoyable gameplay every day. Not all kid-centered games can balance education and entertainment so impeccably well!
In conclusion, Match The Animal deserves two thumbs up as one of the noteworthy games for kids. Children will not just uncover a world full of charming animals but also gain valuable knowledge they can apply outside this virtual universe.
What are the best online games?