Match Dinosaurs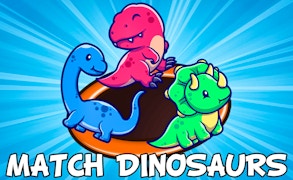 Match Dinosaurs
Description
Embark on a prehistoric journey in Match Dinosaurs, a captivating match-2 game that challenges your memory and observation skills. Immerse yourself in an environment filled with ultra-cute 2D dinosaurs and work your way through different levels by matching them together. As you clear each level, be prepared to encounter new species of dinosaurs that will keep the gameplay exciting and fresh!
How to Play
The game controls are extremely simple and intuitive. Simply click/tap on the dinosaur tiles to reveal the dinosaur underneath. Your objective is to match identical pairs of dinosaurs. As you progress through stages, you'll come across new types of adorable dinosaurs, keeping the game endlessly entertaining.
Tips and Tricks
Remembering the positions of previously flipped tiles could be key to succeeding in this game. In higher levels, try to clear pairs near the middle first, this will open up more options for matching pairs on subsequent turns.
Features
Vibrant Graphics: Enjoy cute and colorful 2D dinosaur illustrations.
Simple Controls: The game is easy to learn with intuitive tap controls.
Evolving Challenge: Encounter new types of dinosaurs as you progress through different stages.
Memory Enhancement: Helps improve memory and concentration skills through fun gameplay.
What are the best online games?