Match 4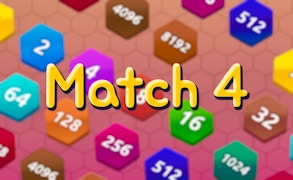 Match 4
Description
Elevate your puzzle-solving skills with Match 4, a brain-stimulating game that offers a unique twist on number and hex fusion puzzles. This game is anything but simple, pushing your strategic thinking to its limits as you combine multi-coloured hexagons with different numbers. Although the rules are easy to grasp, the continuous scoring system and the evolving nature of the grid means you must constantly rethink your strategy, making it a massively addictive game.
How to play
The controls in Match 4 are straightforward - simply click to match four numbers. You must align similar numbered tiles properly for them to merge. The ultimate goal is to keep progressing by continuously scoring points, while keeping the board from getting filled up with tiles. The difficulty increases progressively as you reach higher scores.
Tips and Tricks
Planning ahead in Match 4 is crucial. Consider future moves before merging tiles. Try to focus on specific areas on the board instead of creating a mess everywhere, it will help keep your game organized and increase longevity. Strive for chain reactions for optimal score boosts.
Features
Simplistic yet addictive gameplay: With its easy-to-learn mechanics, Match 4 hooks players right away.
Evolving Difficulty: The increasing number values and decreasing available spaces make for compelling gameplay.
Soothing visuals: The multi-coloured hexagons and smooth transitions offer a visually pleasing experience.
What are the best online games?