Martian Driving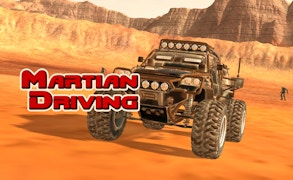 Martian Driving
Description
In Martian Driving, players steer through a surreal, rugged martian terrain while fending off dangerous extraterrestrial creatures. This thrilling game skillfully blends racing and survival elements, promising edge-of-your-seat action at every turn. The player's goal is to smash all the Martian creatures that block their path and finish the journey unscathed.
How to Play
The game controls are straightforward: use arrow keys to drive your vehicle and space bar for action. The key to survival is not just speed, but also strategic maneuvering. Level up by eliminating hostile creatures, dodging obstacles, and reaching far-off checkpoints on the Martian surface.
Tips and Tricks
To stay ahead in Martian Driving, always keep your vehicle moving and avoid getting cornered by enemies. Utilize the bumpy terrain for tricky moves and remember that an effective drift can save you in a tight spot. Remember to explore; rare boosts can be found off the beaten track.
Features
Rugged martian trails with various obstacles and challenges.
An engaging mix of racing, drifting, and creature-smashing action.
Numerous hostile alien creatures with different attack patterns.
Detailed graphics which bring the surreal martian landscape to life.
A range of powerful vehicles with different speed, handling, and strength capacities.
What are the best online games?