Marco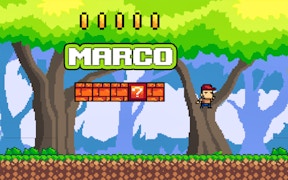 Marco
Immerse yourself in the vibrant world of Marco, a delightful homage to nostalgic Retro Games and an outstanding member of exhilarating Arcade Games. Drawing inspiration from classic Mario Games, Marco blends traditional arcade thrill with modern gaming elements, making it an outstanding game among playable Skill Games.
Boasting multiple levels of escalating difficulty, each stage in Marco is skillfully designed, putting your arcade gaming prowess to the test. The challenges presented are never repetitive or dull – the game keeps you on your toes with its diverse set of enemy types and obstacles. Truly, it's a treat for fans of pixel-rich Pixel Games.
The power-ups that Marco offers tip their hat to the classics. From super strength to invulnerability - there's an exhilarating sense of nostalgia mingling with fresh innovation. The power-ups not only amplify your abilities but also add an exciting strategic element to this fast-paced arcade extravaganza.
In Marco, the action doesn't pause when you're off-level either. The inclusion of an in-game shop allows players to acquire handy upgrades underpinning your progress through the game. Savvy resource management becomes as important as quick reflexes and sharp navigation skills.
In conclusion, Marco expertly weaves features from much-loved genres into a modern classic that is sure to appease even the most discerning arcade enthusiast. If you harbor a love for retro-inspired gaming sprinkled with contemporary twists or if mastering high-score tables has always been your forte, then this vibrant amalgamation of old-school charm and modern finesse is meant just for you!
Ride along on this pixel-powered journey and rediscover why arcade gaming steals hearts generation after generation. Get ready to channel your inner gamer with Marco!
What are the best online games?