Mancala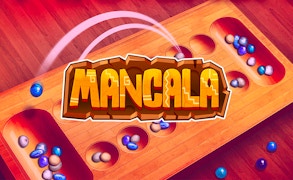 Mancala
When it comes to designing a board game it helps to decide on a theme so that players can better visualize what they're doing and that's the deal in Mancala. While the name may not be clear at first, you and the other player are taking on the role of farmers or gardeners. You each have seeds that you're trying to get into your store to prepare for the upcoming seasons. Farming and gardening can be competitive so there are reasons why you would want to have more seeds than your opponent. It's all about who's better prepared for the season.
About Mancala
An appealing element of board games is the kind of pieces you get to play. They can be simple like Checkers or complex like Chess, but the moment that you touch them, they take on a whole new meaning and purpose. The pieces in this game are simple and colorful, but it doesn't take much imagination to view them as seeds. The board has easy ti interpret carvings which help to sell the illusion of planting and storing all of your seeds and some of your opponent's too if the opportunity arises. However, you must always tend to your own garden first.
How to Play
Mancala is a 2D board game that you can play with the mouse. Whether you're playing against the computer or another player, each decision can be made with a click of the left mouse button. The board is arranged with two long indentations on the sides and six circular indentations in a row on the top and bottom of the board. The circular ones in front of you are your pits and the long one to your right is your store. Each pit has a certain amount of seeds in it. Your goal is to move the seeds so that you have as many in your store by the time the game ends.
Turns go counterclockwise with either player starting. On your turn, you choose one pit and take all the seeds out of it. You then "sow" the seeds by putting one in each pit going to the right of the pit you took the seeds. When your hand is empty, it's the opponent's turn. Depending on the pit you choose and the amount of seeds you have, you could overshoot your store and have to place the remaining seeds from your hand into your opponent's pits.
There are two special rules to keep in mind. If the last seed you sow ends up in your store, you get to take another turn and sow again. However, if the last seed you sow ends up in one of your empty pits, you get to "capture" the seeds in the opponent's pit opposite it. Those seeds and the last seed you sowed all get put into your store. The game ends when one player's pits are all empty and the other player then has to empty all their pits into their own store. Whoever has the most seeds wins.

Tips and Tricks
This game is all about strategy and math so make sure you observe the layout carefully. Don't build your moves around one big payoff rather than consistent gains. If you do, you risk falling into traps that the opponent can set up in the future

Game Details
Platforms: Web Browser (PC and mobile), iOS, and Android
Languages: Varies depending on the version

Gameplay Footage
FAQs
Is Mancala the oldest game in the world?
While the answer can change based on the definition of "game", historians believe Mancala to be the oldest game in human history. There's evidence of the game dating back to 6000 BCE.
Is Backgammon related to it?
Mancala and Backgammon are both different in many ways, but they also share similarities in terms of mechanics. Although the latter uses dice, the goal is to get your pieces to your reserve space while also interacting with your opponent's area.
Games similar to Mancala
From the structure and design, this game would fit into the 2 Player and Brain Games categories on GamePix. It shares these sections with The Lost Pyramid, Rooftop Snipers, Brain Teaser, and Imposter Rescue.
Mancala belongs to Board, Puzzle and it is often associated with Flash Games and 2 Player Games. This game has received 374 votes, 301 positive ones and 73 negative ones and has an average score of 4.0.
It is a game played in landscape and it's playable on Desktop on gamepix.com. This game has been published on 2019-12-22, and updated on 2023-09-21.
What are the best online games?