Makeover Run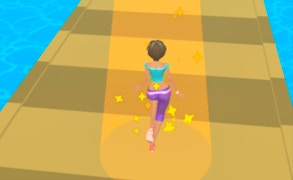 Makeover Run
Welcome to the captivating world of Makeover Run, a gem in the domain of games for girls. This is not just a game, it's a vibrant journey where every hurdle is an opportunity to doll up and dazzle. With its exciting combination of running games, dress up games, and makeup games, Makeover Run offers an exhilarating experience that would engage all young ladies out there.
As the name suggests, in Makeover Run, you are in a thrilling race against time, collecting fabulous outfits and makeup items along your path. The goal? To get dolled up for your boyfriend who awaits you at the finish line! It's all about collecting as many chic outfits and makeup items as possible while dodging obstacles that come your way.
This game beautifully merges the excitement of a traditional running game with the creativity of dress-up and makeup games. Its outstanding graphics, enchanting soundtrack, and easy controls make it remarkably appealing. But what truly sets it apart is its unique concept. You're not just running; you're evolving into a stunning diva right before his eyes.
The game's challenge doesn't end with just racing against time or collecting fancy clothes; it's more about the art of transformation. It's playing with style, mixing and matching different pieces to create stunning looks. Each choice, each outfit you collect influences your final look - so choose wisely!
Makeover Run keeps you hooked with its engaging gameplay, trendsetting fashion elements, and charming fairy-tale charm that captures young hearts. Additionally, its SEO-friendly nature makes it easily discoverable for kids searching for captivating games for girls. So grab those virtual heels ladies, it's time to run the runway!
What are the best online games?