Mahjongg Dark Dimensions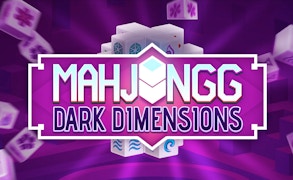 Mahjongg Dark Dimensions
For lovers of mentally engaging board games, comes another masterpiece in the world of Mahjongg games, a game that is certain to push your cognitive abilities to the limits. Titled, Mahjongg Dark Dimensions, this game impeccably combines the classic charm of traditional Mahjongg with an exhilarating twist of dark challenges.
Mahjongg Dark Dimensions provides the thrill you seek if you found pleasure in Mahjongg Dimensions but craved higher stakes. The game takes place in a thought-provoking, mystical realm where every second counts. In this intense game, speed and strategy are your best allies against the ticking clock. The name of the game? Keep that clock running for as long as possible by matching Time Bonus Tiles.
The more skilled you become, the further you can venture into these dark dimensions. Be forewarned though: each time you match a pair of Time Bonus Tiles, you fuel the clock and plunge deeper into darkness. It is a riveting race against time that not only tests your speed but also hones your strategy-making abilities.
The visuals are stunning, making every turn a feast for the eyes. However, do not let beauty distract you; keep focused on matching tiles swiftly or fall prey to the dark side. The riveting gameplay coupled with beautiful graphics ensures an immersive gaming experience that keeps bringing players back for more.
In conclusion, Mahjongg Dark Dimensions is an excellent choice for gamers who enjoy board games that require strategy and quick thinking. So if you're up for an exciting challenge, do not hesitate to try out this latest addition in the world of Mahjongg games.
What are the best online games?
TAGS