Mahjongg Candy Cane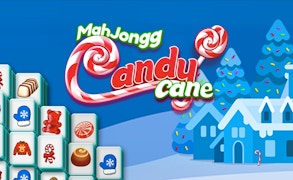 Mahjongg Candy Cane
Experience the blissful joys of winter with the yuletide version of a classic pastime in Mahjongg Candy Cane. A delightful fusion of the time-honored mahjong games with a sprinkle of Christmas magic, Mahjongg Candy Cane is designed to offer players not just a game, but the ultimate holiday gaming experience!
The game stays true to the traditional elements of mahjong games, which remain untouched for purists. However, it's been wrapped in a shiny new paper with delightful wintry graphics that evoke the feelings of the festive season. As you delve into this addictive matching game, you will be transported into a winter wonderland adorned with vibrantly colored candy canes and twinkling holiday lights- a real visual treat for those who love Christmas games.
One of the highlights is its warm and inviting visuals, reminiscent of cozy nights spent by the fire, fairy lights twinkling on frost-crested windowsills. It's sure to kindle sparks of festive cheer within gamers across all ages. Moreover, the matching tilesets are not only exciting but they also put your strategic skills to test.
Mahjongg Candy Cane embodies the spirit and joy of Christmas games to a tee while maintaining its intellectual charm. This makes it not only a game to enjoy during the festive period but indeed, one you'd happily revisit all year round.
In conclusion, whether you're an old fan looking for seasonal tweaks or someone simply hunting for engaging holiday-themed board games, look no further! Mahjongg Candy Cane is your ticket to frolic in the snow-covered landscape without leaving your warm home. Bundle up and get ready for some festive fun!
What are the best online games?