Mahjong Story 2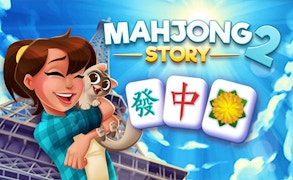 Mahjong Story 2
Welcome gamers and puzzle enthusiasts to the exciting world of Mahjong Story 2. This game is not just another addition to the plethora of mahjong games out there, but a thrilling adventure that's bound to hook players of all ages, making it an ideal game for kids and grown-ups alike.
The first thing you'll notice about Mahjong Story 2 is the sheer number of levels - over a whopping 1000! This means countless hours of brain-teasing fun that will test your strategic thinking abilities. With each stage cleverly constructed, the game unfailingly presents a unique puzzle experience, ensuring no two levels feel the same.
The magic doesn't stop there though. The game whisks you away on a journey through mesmerizing worlds brought to life by stunning graphics that are both colorful and charismatic. The attention to detail is commendable, making Mahjong Story 2 a visual treat.
One of the standout features of this game has to be its soothing music. Almost therapeutic in nature, it succeeds in creating a calm atmosphere that makes gameplay incredibly relaxing. Additionally, anyone can start playing immediately thanks to its intuitive controls, meaning no complicated instructions or confusing buttons; just pure gaming pleasure.
So whether you're a seasoned gamer or someone discovering the world of mahjong games for the first time, Mahjong Story 2 will captivate you with its unique charm. It holds every element needed to make it an outstanding choice as one of the top games for kids. In conclusion, don't miss out on this immersive journey filled with challenges and relaxation.
What are the best online games?
Tags